It's important to learn about your youth. Your genetic makeup to gain an understanding of yourself. There were a lot of revelations over this past Chinese new year with my family as we reached a new level of honesty with each other. I learned that my IQ was 125 when I got tested as a kid. This is significant to me as I always thought I was dumb. There's a long story to it, but in short, as an immigrant, most people will assume you are dumb because of your inability to speak fluent local language. The environmental perception of you will affect you. But because of this, I've developed a good work ethic. So from now on, I am going to sound a lot more certain about my conclusions. Take measures to discount that in the future.
The Conservative Straddle Progress
The conservative straddle strategy has turned out very well. The timing turned out to be pretty spot on. So, if $150 is indeed the turn around point, we can safely dismantle this in the future.
In the beginning (Jan 21 Link):

Buy 2 $200 June 2016 Put @$24.70
Sell 1 $250 Mar 2016 Call @ $2.81
Buy 100 stock at $202.71
Total capital at risk is $5000.
Total capital necessary to execute this is $25,211
Below is the profit curve. Blue line is what your profit will look like when March Expiration comes around.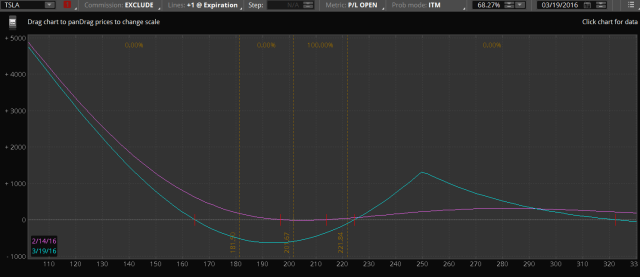 Here we have the trades:



Here is the profit curve with March and June expiration. Orange line is June expiration and blue line is March expiration.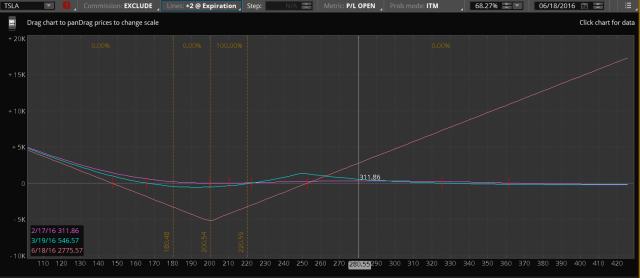 On the morning of Jan 28 (Jan 28 Link):
I sold one of the put as a precautionary measure.
Sell 1 $200 June 2016 Put @ $30.12
Then on the market open of Feb 8 (Feb 8 Link):
I have liquidated all the bearish positions and opened a bullish position by selling a $150 put.
The June 200 Put was sold at $53.02
The Mar 250 Call was bought back at $0.35
The new Mar 250 Put was sold at $12.15
This is what the profitability curve look like on Feb 8th.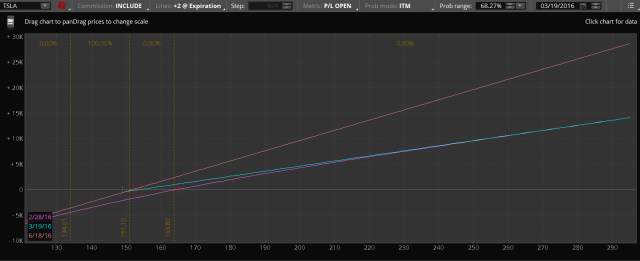 Today Feb 28th. This is where we are:

Since the $150 put sold has outgrown its utility, I will be looking to buy it back within the coming week.