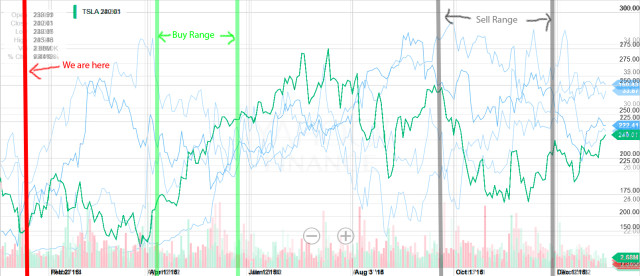 So, I have superimposed 5 years of TSLA stock price from 2011 to 2015 in one graph to give you a view of the cyclical nature of TSLA. This is nothing groundbreaking, but something that's overlooked by most people. Except for 2012, most of the data conforms to one story and that is of the March ~ April ramp up and a significant slow down after October. And if you look at this chart carefully, there is almost always a crash in January ~ February area. Which is where we are now.
I have a few theories on why this is happening and it has something to do with Asia. Most of asia, operate in a lunar calendar cycle which centers around the lunar new year. The lunar new year changes each year, but it can be approximated by "sometimes around February". It is a two week to one month ordeal where all factory workers go home to spend time with their grandparents and parents. Which means that, one month before the event, only maintenance works are scheduled into the queue. Any new production, or retooling will be marked for after the year.
This calendar has a lot of synergy with western world's Christmas season, allowing production to ramp up for western holiday season and ramp down during Q1's strategic decision making. In any event, if you believe the same cycle will play out again this year, which so far it has, then I'd start gathering cash to arrive in the March~April time frame.
With regards to TSLA
Those of you expecting a surprise ramp up in Q1 will probably be disappointed as this means that even if TSLA wants to ramp up, they will not be able to because most of its suppliers have shutdown their production during the holiday season. Unless TSLA manages to bring production of every single part in-house, they will be hostage to the lunar calendar.
The recent passage of anti dumping tariff in USA on Asia Steel has the effect of increasing the accuracy of my information network on this sector as steelmakers and automakers increase their orders from my network of contacts while simultaneously decreasing their orders from the rest of Asia. I had mistaken this as increasing orders from automakers when in fact, it is a simple shifting of contracts to different suppliers. In 3~ 4 months, I'll get a clearer picture of whether or not production is increasing or not.